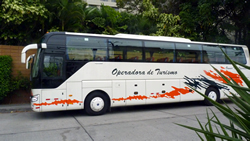 Dear Travel Colleague.-



Whatever your reason for traveling, we aim to make your experience with us relaxing, comfortable and enjoyable. From your first contact with us, we aim to take the time to understand your needs, focus on your specific requirements, and offer our advice gained through years of experience.


But, simply, we take pride in a well done job, and we firmly believe that we offer levels of customer care found only in a family business; with our clean, modern, high specification vehicles, friendly and well trained drivers, and extensive infrastructure, Ecuadorianbuscharter really are different.